Jamaican Yellow Boa
(Epicrates subflavus)
The Jamaican Yellow Boa
is endemic to Jamaica, is the island's largest native terrestrial predator and, as with all species in the Boidae family, kills its prey by constriction. What are we really saying? The Jamaican Yellow Boa is NOT poisonous! Indeed, none of Jamaica's 7 extant species of snakes is poisonous. Not only is the boa not a threat to humans, it's actually extraordinarily beneficial. Rats are a major component of the boa's diet in forest edge / farm habitat, so when a farmer finds one coiled in a coffee tree or banana plant, it's digesting a meal which would have otherwise damaged their crops. If you're lucky enough to have a wild boa take up temporary residence in your house, as we are periodically, you will find that your rat problem magically goes away.
Unfortunately, most Jamaicans are not as thrilled with the idea of having a boa in their house! The traditional Jamaican antipathy to reptiles (in general) and snakes (in particular) is a serious problem in their conservation. In the absence of an education programme, snakes are killed on sight. And when we say "killed," we mean but good: chop it with a machete, drive over it with a truck and then back-up to squash it a second time, pour rum over it and set it ablaze. This intense persecution of such a benign and beneficial animal, coupled with continuing habitat loss and fragmentation of remnant forest patches, is a serious threat to Jamaican Yellow Boa populations.
During her research on the breeding biology of Black-billed Parrots, Susan identified that boas were a major cause of nest failure... or to look at the other side of the coin: parrots are an important food resource for boas. Nature is in balance and we respect all components of the web of life. Local farmers, however, were not so keen and immediately offered to continue killing all boas. Indeed, Susan and her crew periodically encountered chopped boa carcasses in the forest. We realized people were killing snakes for a number of reasons, including a mis-informed fear that boas were poisonous, the Bible told them snakes were evil, and they had no knowledge that boas could be beneficial to their farm crops. So we began an informal education campaign, where if someone finds a boa they could come and tell us and we will capture the animal. This gives us the opportunity to show people that it's OK to touch a snake (we usually ask the "obnoxious young man" at the back of the crowd to help us hold the snake -- sexism is great, if Susan can touch a snake, the young man has to defend his manhood!) and to talk with people about the benefits of boas. After we collect various data of the snake, we return it as close as possible to its point-of-capture (its home territory). As Miss Herma says, "She never love de s-nake like Miss Susan, but she keep her cutlass down now when she see one: him no trouble her."!
Windsor and, more generally, Cockpit country, is one of the few remaining strongholds for this endangered snake, and we are certainly pleased with our communities change in attitude over the last few years.
| | |
| --- | --- |
| | |
| Benny and Bingy help out with measuring a small boa | You can see here the iridescent scales on the head |
After sexing,

weighing and measuring each animal, we cut a small notch in one or two of the caudal scales, i.e. behind the vent on the tail, so that we or any future researcher can recognise the individual and determine the lifespan of Jamaican Yellow Boas. This does not harm the snake (you could compare it to cutting a fingernail) but the notch will remain even as the snake sheds its skin. We also photograph and sketch each snake's distinct scale coloration to act as a backup means of identification. Use the selections on the right to see what we do.
Scale-clipping is a short- and medium-term way of marking individuals, but we also would like to implant Permanent Implantable Transponders (PIT tags) for more permanent identification. Financial contributions to purchase the tags and reading device are gratefully accepted!

Check out our searchable database for details.

We are finding that there may be a pattern emerging, as regards the sex of the boas we capture, by time of year and their position in the habitat (eg increase in encounter rates with gravid females basking on the ground), though our sample size is still small.
Telemetry research on habitat use is definitely needed.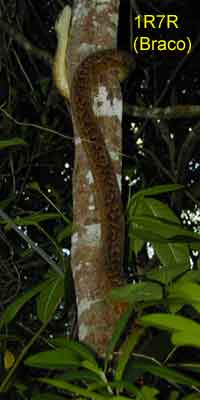 After weighing and marking, we normally release the animal back in the same area that we find it. See photo on left: the Boa clearly has no problem climbing even this smooth-trunked tree. In one case we moved the animal to about 500 m from the quarry where we intervened in time to stop it being killed (and had a very good dialogue with the quarrymen!).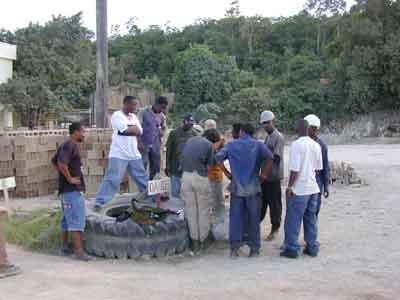 It was, however, recaptured the following week back in the same quarry and we had to pay the finder's fee (of about US$10) again: at least the snake was not killed, and we were able to reinforce our message (see photo on right)!
Research Opportunities
We value your feedback and comments: