YELLOW BOA (Epicrates subflavus)
The Yellow Boa, Jamaica's largest native terrestrial predator, is not poisonous (none of Jamaica's snakes is poisonous), but although harmless to humans, is heavily persecuted. The traditional Jamaican antipathy to reptiles in general and snakes in particular is a serious problem in their conservation. In the absence of an education campaign, snakes are killed on sight. In fact this snake is frequently attracted to the food resources such as rats, in human-disturbed areas so that it may be becoming even more endangered. Anecdotal evidence suggests that they may be larger on the south side of the Cockpit Country, reaching 2.50m length, compared to about 2m on the north.
Windsor Research Centre has an ongoing project to collect data and to sensitise farmers and communities to the value of these snakes.
| | |
| --- | --- |
| | A somewhat reluctant researcher holds a Yellow Boa after measuring, weighing and marking (see bottom photo). |
| | You can see here the iridescent scales on the head |
| | Here is the yellow underbelly which gives this snake its name. |
| | After weighing and measuring each animal, we cut a small notch in one or two of the caudal scales, i.e. behind the vent on the tail, so that we or any future researcher can recognise the individual. This does not harm the snake (you could compare it to cutting a fingernail) but the notch will remain even as the snake sheds its skin. We also photograph and sketch each snake's distinct scale coloration to act as a backup means of identification. |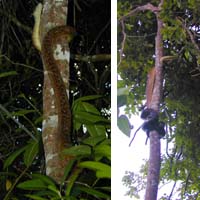 After weighing and marking, we normally release the animal back in the same area that we find it. See photo on left: the Boa clearly has no problem climbing even this smooth-trunked tree. In one case we moved the animal to about 500 m from the quarry where we intervened in time to stop it being killed (and had a very good dialogue with the quarrymen!).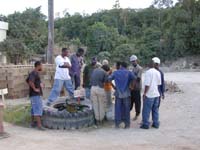 It was, however, recaptured the following week back in the same quarry and we had to pay the finder's fee (of about US$10) again: at least the snake was not killed, and we were able to reinforce our message (see photo on right)!
We value your comments and feedback: please e-mail us.